NGOS of Bngladesh: All Ngo List in BD
In this  post we collect All NGO List of Bangladesh. So Stay and read our Informational post.
All NGO List in Bangladesh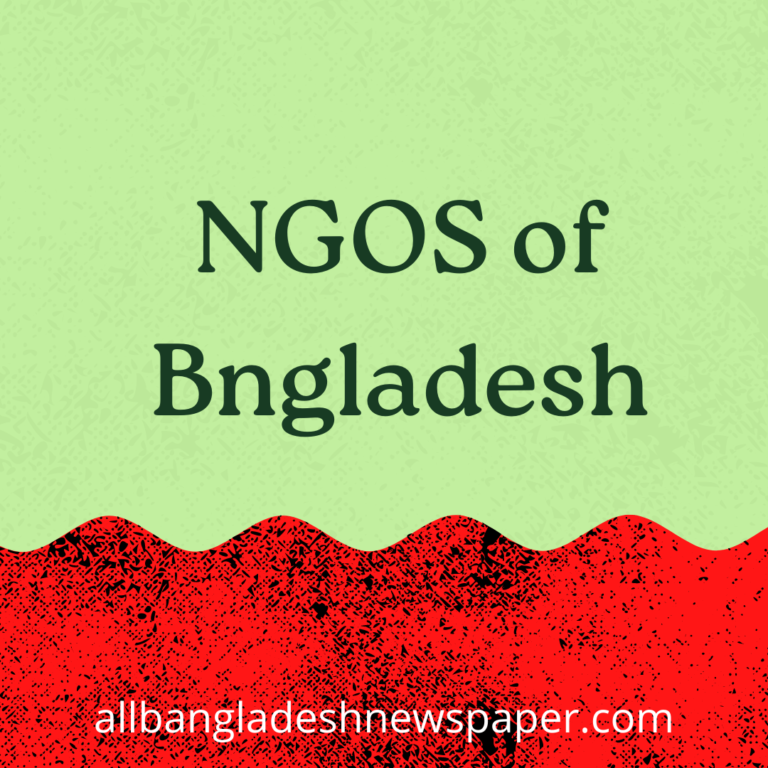 01.3F-United Federation of Danish Workers

Address-Road-54, Houase-11/A,
Apartment-B/4, Gulshan,
Dhaka, Phone: 01764-405244
02.A Shelter for Helpless Ill
Children (ASHIC)

Address-House-52, Road-3/A,
Dhanmondi, R/A, Dhaka
Phone :9673982
www.ashic.org
03.A.B. Foundation 

Address-Vill., Post + Upazilla:
Chirirbandar, Dist: Dinajpur
Phone: 01711-530611
04.A.M. Foster Care 

Address-House-38, Road-04, Sector–05,
Uttara Model Town, Dhaka1230.
Phone: 01715-475282
05.Abalamban

Address-Pachimpara, Post: Gaibandha,
Upazilla: Gaibandha Sadar,
Dist.: Gaibandha.
Phone: 0541-62388
Also read – NGO list of Cox's Bazar 
06.Abdul Halim Khan Foundation

Address-1257, Khorompatty,
Post+Upazila: Sadar,
Kishoreganj, Tel: 01711681660
07.Abdul Momen Khan Memorial Foundation (Khan Foundation)

Address-5 Momenbagh, Dhaka-1217
Phone : 9330323
08.Abdur Rashid Khan Thakur Foundation

Address-Chapailghat Road, UZ+Zila:
gopalganj-8100
Phone: 8034489, 01911-352919
www.arktf.org
09.Abed Satter Pathen Foundation

Address-118 Isdair, Fatullah,
Narayanganj
Phone: 0190-251515
10.Abeda Mannan Foundation (AMF)

Address-Vill: Chulash, Post Office:
Maricha, Upazilla: Debidwar,
Dist: Comilla.
Phone: 01552409539, 02-
8832921
www.abedamannafoundation.org
11..B B Foundation

Address-House-11, Road-4, Dhanmondi,
Dhaka.
PhoneL 01977-221120
12.Badabon Sangho 

Address-Village: Katamari, Post:
Vakotmari, Upazila: Rampal,
Dist: Bagerhat, Mob:
01732396585
13.Bandhu Social Welfare Society

Address-99 Kakrail, Dhaka-1000
Phone : 9339898, 9356868
Fax: 9330148
www.bandhu-bd.org
14.Bangladesh Academy for Agriculture 

Address-11/8, Iqbal Road,
Mohammadpur Dhaka
15-Bangladesh Aids Prevention Society (BAPS)

Address-8/1, New Circular Road (1st Fl.),
West Malibah, Dhaka-1000
Phone: 9344745
16-Bangladesh Alliance for Social Equity Foundation

151/3, Monipuri Para (3rd Floor),
Tejgaon, Dhaka
Phone: 01766-684239
17.Bangladesh Alliance for Women Leadership

The Reveee, Flat-C, House-11,
Road-33, Gulshan, Dhaka.
Phone: 985308, Fax: 9855306
www.bdawl.com
18.Bangladesh Association for Community Education (BACE)

50, Purana Polton Line, Dhaka
Phone : 9355173, Fax: 9345173
www.bacebd.org
19.Bangladesh Association for Maternal & Neonatal Health (BAMANEH)

13/3, Shyamoli, Road-2, Dhaka 1207
Phone: 9111168
20.BASA Foundation

H-247, Rd-18, New DOHS,
Mohakhali, Dhaka.
Phone : 9862464
Fax: 9880957
www.basango.org
21.Bangladesh Association for Sustainable Development 

110- Monipuripara (1st Floor),
Tejgaon, Dhaka-1215.
Phone: 9102326, Fax: 9102324
website: basdbd.org
22.Bangladesh Association for the Aged & Institute of Geriatric Medicine

Agargaon, Sher-e-Bangla Nagar,
Dhaka.
23.Bangladesh Association of Women for Self Empowerment(BAWSE)

322/2 North Goran,
Shipahibagh, Dhaka-1219
Phone: 7210627
24.Bangladesh Auxiliary Services for Social Advancement (BASSA)

45/D, Senpara Parbata, Mirpur10, Dhaka-1216
Phone: 8031425, Fax: 8033152
www.bassabd.org
25.Bangladesh Birth Control & Family Welfare Association

12/1, Chamelibag, Shahjalal
Manzil, Shantinagar, Dhaka
Phone : 9339129
You also get All Popular websites in Bangladesh here- Website links